| TOGETHER WITH | |
| --- | --- |

Happy Thursday.
Meet the Super Mosquito. Scientists say that they have evolved to withstand insecticides. Well that didn't take long!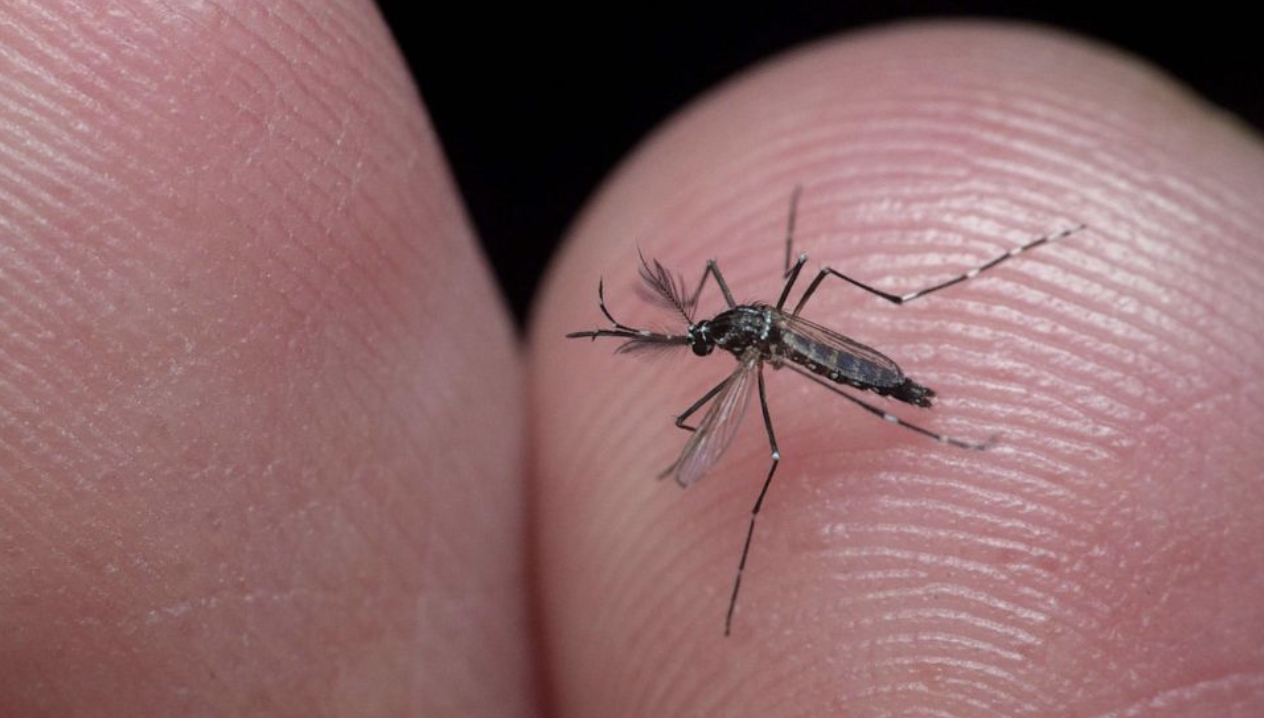 credit: getty
In Case You Missed It.
💸 Ukrainian President Volodymyr Zelensky addressed a joint session of U.S. Congress and asked for more money and weapons beyond the new $45 billion approved this week.
💸 Major world economies are actively seeking alternatives to the U.S. dollar as a reserve currency.
🏈 Google is in talks with the NFL to offer a subscription-based football package.
🍎 Apple has reportedly walked away from the NFL Sunday Ticket negotiations and will no longer compete to bring games to Apple TV+.
🇭🇹 The U.N. is calling on countries to send armed forces to Haiti.
🥶 Baby it's cold outside! The Arctic blast in the U.S. began on Wednesday and is expected to impact holiday travel.
📺 Catch the full replay of our Redacted live show from last night right here.


| | | | |
| --- | --- | --- | --- |
| | Gold | $1,814.92 | |
| | | | |
| --- | --- | --- | --- |
| | Silver | $23.72 | |
| | | | |
| --- | --- | --- | --- |
| | Bitcoin | $16,842.08 | |
| | | | |
| --- | --- | --- | --- |
| | Dow | 33,376.48 | |
| | | | |
| --- | --- | --- | --- |
| | S&P | 3,878.44 | |
| | | | |
| --- | --- | --- | --- |
| | Nasdaq | 10,709.37 | |
*Stock data as of market close, cryptocurrency data as of 5:00pm AM.


The Lead: Don't Read It, Just Pass It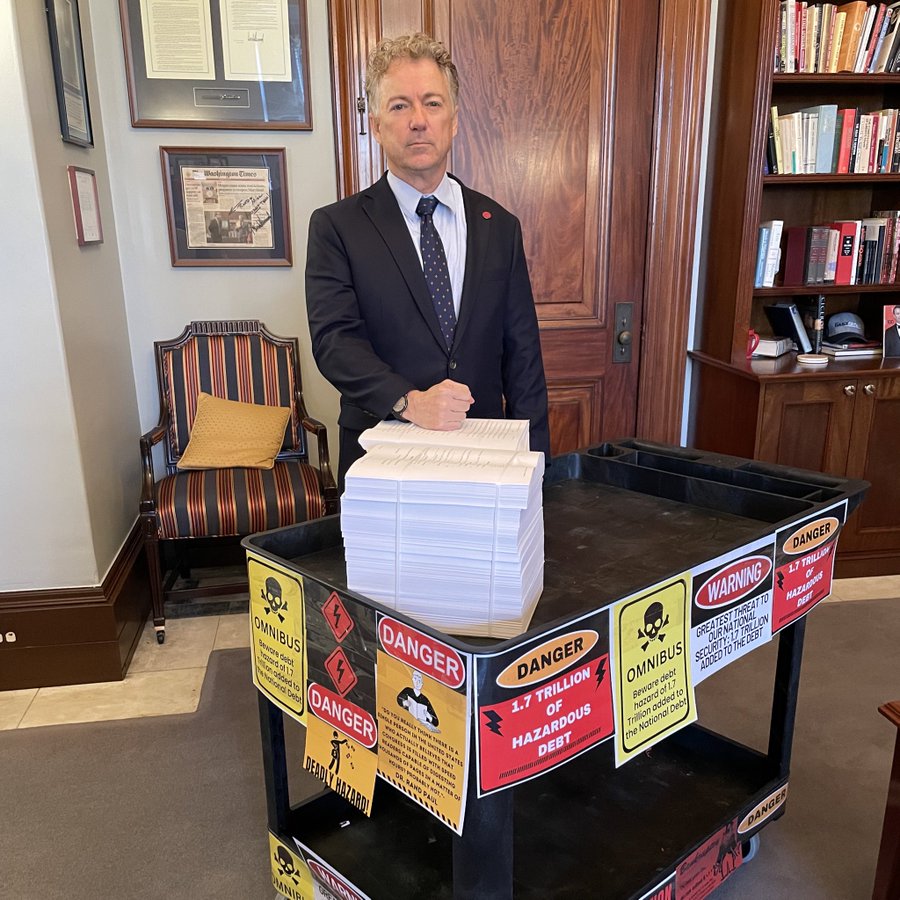 senator rand paul stands with the 4,155 page budget. credit: wsj
Congress released a 4,155-page budget worth $1.7 trillion. It was released in the early morning hours of Tuesday and will be held for a vote this week. Clearly, no one has read it all the way through.
It includes an additional $45 billion in aid to Ukraine but this is separate from the $1.85 billion that President Biden announced on Wednesday for Ukraine after President Zelenksy's visit.
The spending bill includes many other oddities such as a new Ukraine Independence Park in Washington, D.C., $200 million for "Gender Equity" in Pakistan, border security in middle eastern countries, an LGBT museum in New York, $65 million for salmon population research and $575 million for "family planning" in "areas where population growth threatens biodiversity."
It also includes $335 million to "prepare for or respond to an influenza pandemic." That budgets for musical supplies, vaccines, antivirals "and other surveillance tools." Surveillance tools?


News Flash: Trump Paid Low Taxes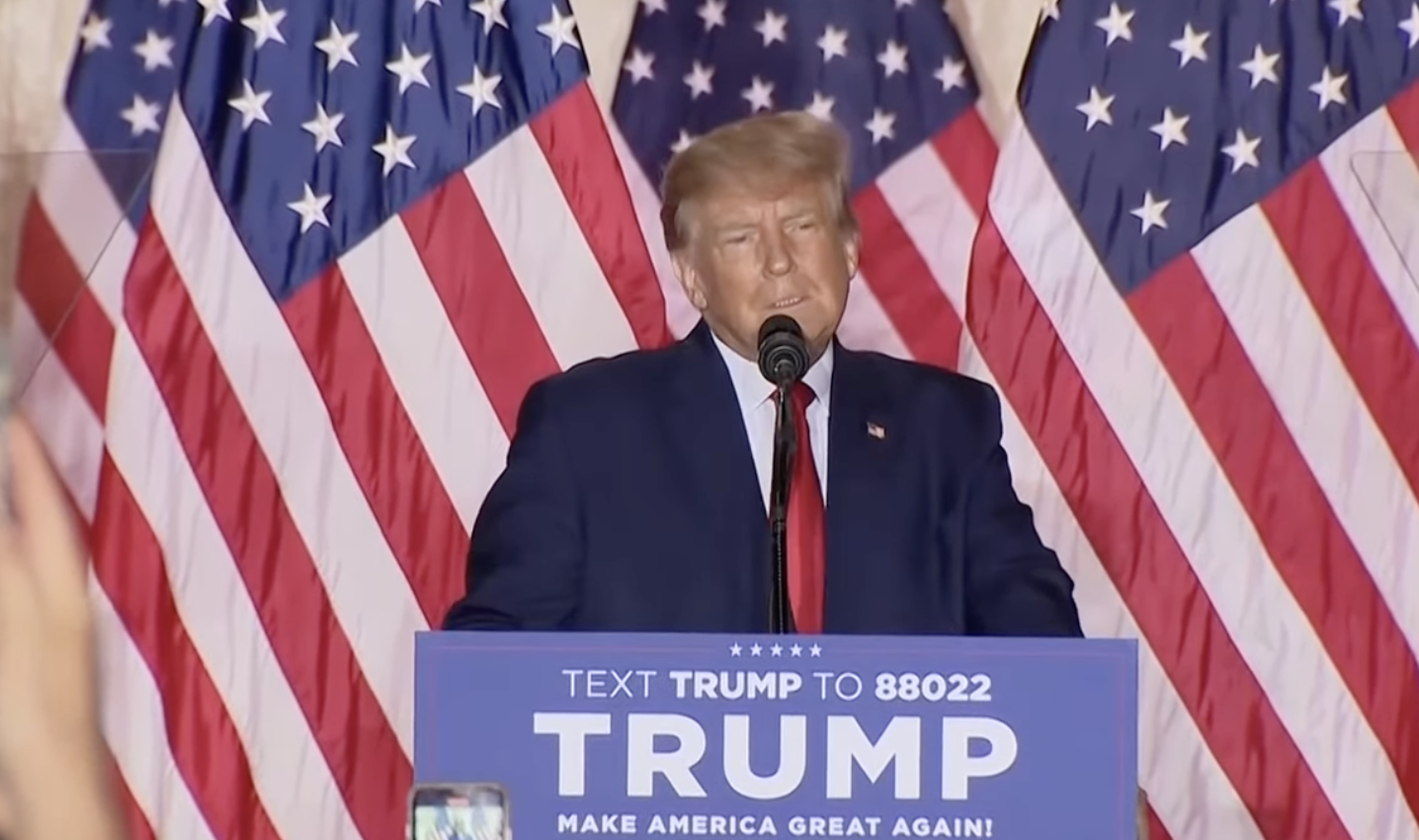 credit: youtube
Former President Trump's full tax returns have not been released but the House Ways and Means Committee released this summary.
The summary shows that the former President and his wife payed $1.8 million in federal income taxes between 2015 and 2020 and declared losses totaling about $53 million.
The President used many tools to declare deductions and losses. These tactics are taught in business school so you may have an opinion about it but, you know, don't hate the player. He also issued many loans to his children, triggering questions about gift taxes.
These things are not for us to decide. It's for the IRS to decide but the report says that the IRS was thinly staffed when it came to Trump's audits.
Flashback: Trump repeatedly addressed paying low taxes during the 2016 Presidential debates. In this famous exchange he pointed out that all of Hillary Clinton's donors used the same tax code and deductions to their advantage.


The Coolest Bed in the World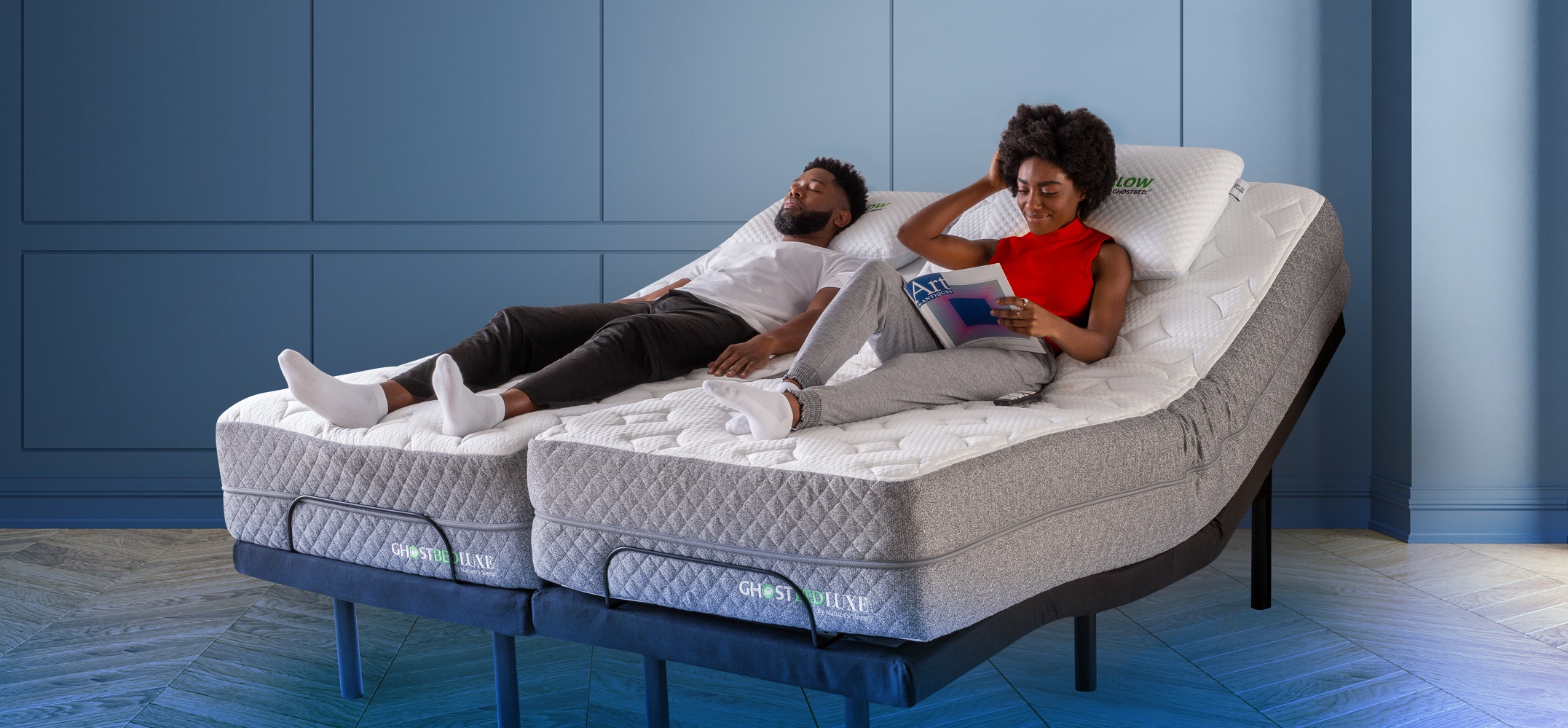 Award-Winning Cooling, Comfort & Affordable Luxury
There's nothing better than getting a great night of sleep. And sleeping on a mattress that's designed for your particular sleeping style can really help.
GhostBed is a family-owned business that's been designing mattresses and other sleep products for more than two decades.

GhostBed takes the guesswork out of the equation with their online mattress quiz. Answer a few questions about your lifestyle and sleeping style, and they'll recommend the right GhostBed mattress for you.

Lounge, nap and snooze on your GhostBed mattress for 3+ months. Don't love it? Return it for free with their money back guarantee.

Our original, award-winning mattress with more than 50,000 positive reviews
For a limited time, our Redacted readers can get 30% off GhostBed mattresses PLUS 2 luxury pillows, or get 40% off when you bundle a mattress with their award-winning adjustable base. Use promo code REDACTED at GhostBed.com/redacted to take advantage of the offer.


Well, No Duh Sherlock!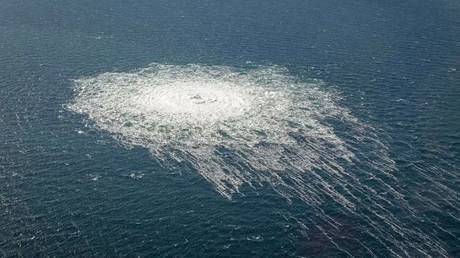 destroyed Nord Stream pipeline credit: getty
The Washington Post is reporting that there is "no conclusive evidence" that "Russia was behind the Nord Stream attack." You can put this in the no 'No Duh' file.
We kind of worked that one out for ourselves but thanks. Why would Russia attack its own pipeline that it spent billions to build and would bring them major profits from delivering oil and gas?
The Washington Post cited 23 diplomats and intelligence officers from nine countries and found that no one who took this seriously believed Russia was responsible.
The pipeline was clearly sabotaged. Explosive material was found at the explosion location and German officials say that they believe that responsible party is "state actors." From which state then? No one wants to say.
Probably not related, but we thought we'd mention: The U.S. has dramatically increased its natural gas exports to Europe and quadrupled its prices to make up for the destroyed pipeline. Again probably not related but we thought it was worth a mention. Nothing to see here.


What's Trending?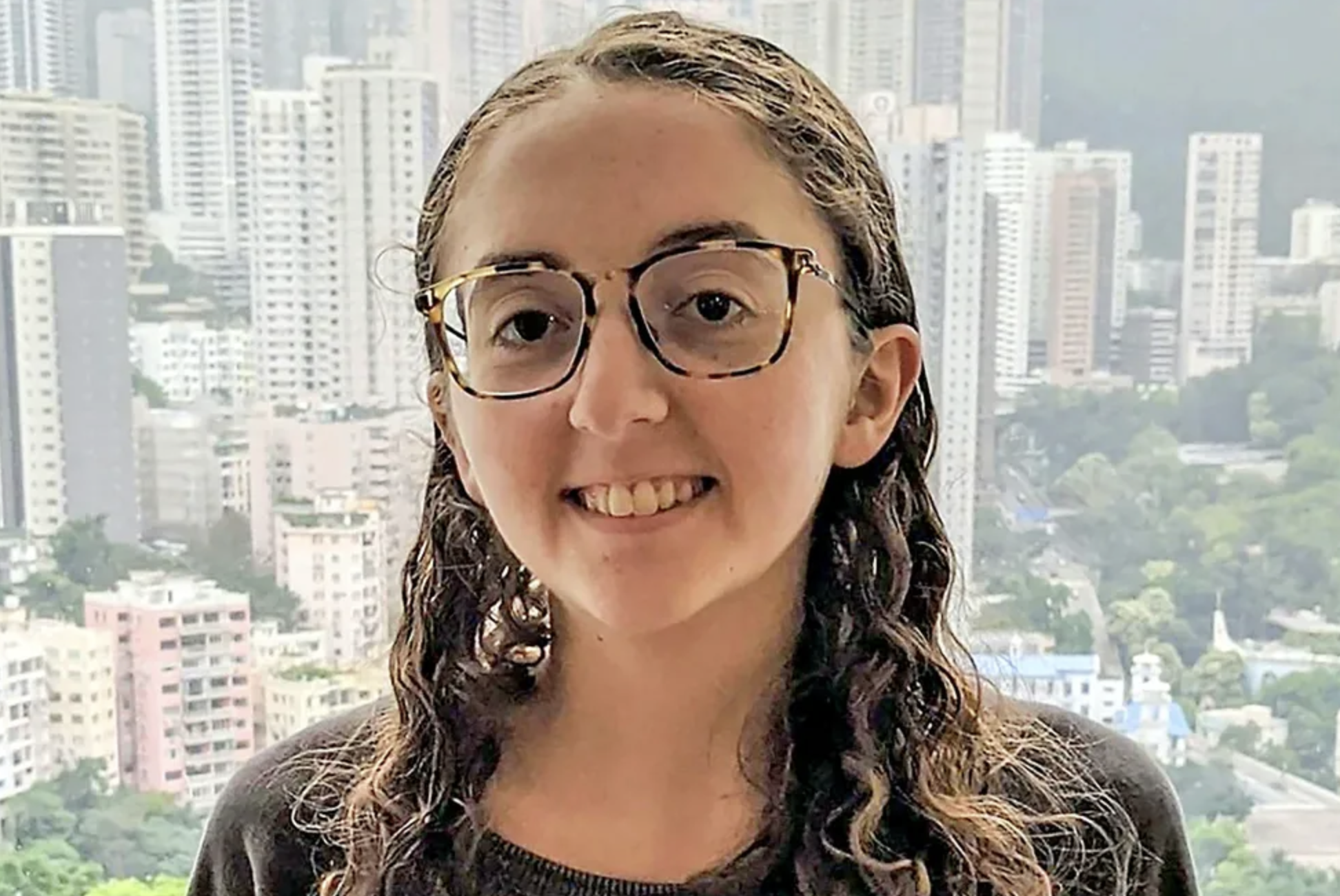 credit: twitter
Caroline Ellison is trending. She is the ex-girlfriend of Sam Bankman-Fried and headed the partner company he used to launder money. She was charged with fraud along with Gary Wang for her role in this scheme in the Southern District of New York.
Oscars is trending because the short list of next year's nominees was announced. The Oscars will air in March.
Paul Simon is trending because of a two-hour special about the singer-songwriter that aired on CBS on Wednesday.




Netflix and Chill Bill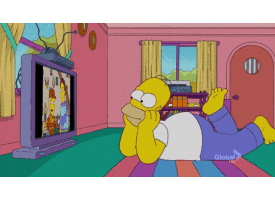 credit: giphy
Should Netflix and other streaming services have to answer to government regulation like other broadcast stations? That is the plan in the U.K.
Sometime next year, Prime Minister Rishi Sunak's government will allow streaming channels to be policed by Ofcom, the U.K. version of the FCC. This means that they would face fines for violations such as the ones that viewers claim are in the Harry & Meghan documentary.
Netflix supports this reform, according to The Mirror.


SUPPORT INDEPENDENT JOURNALISM!
Click here to go to our store to grab some of our exclusive Merchandise.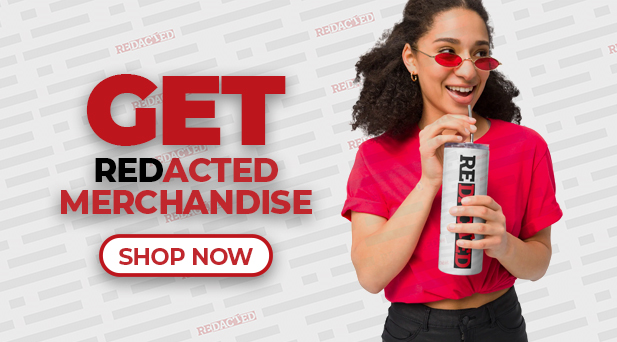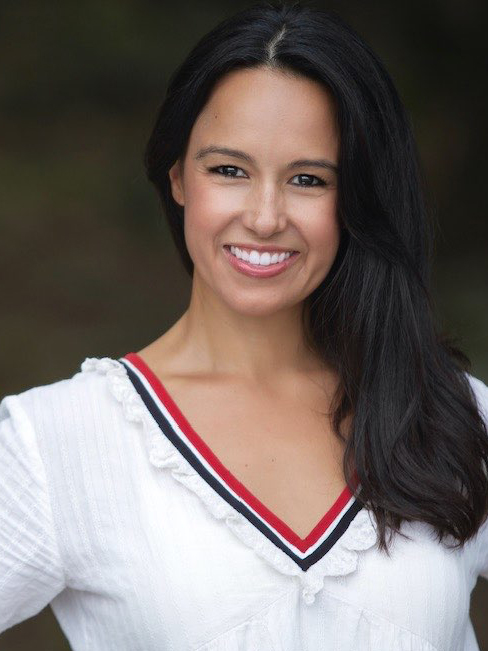 This newsletter is written and researched by Natali Morris.
Please feel free to reach Natali at

[email protected]


for any editorial feedback.