| TOGETHER WITH | |
| --- | --- |

Happy Wednesday.
The Social Security Administration says "Issac" and "Chole" are the top two most changed names in the U.S. The most adopted names are Isaac and Chloe. Do you see that small change? Don't drink and name your kids, people.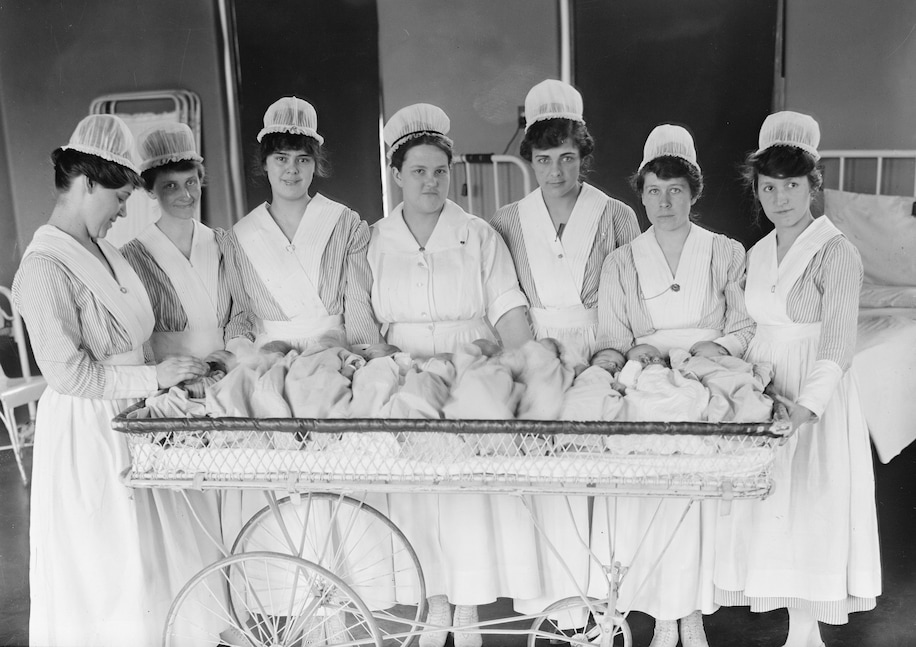 credit: getty
In Case You Missed It.
💉 A measles outbreak in Zimbabwe now has a death toll of 157 mostly unvaccinated children.
🦻🏻 Hearing aids will be sold over-the-counter and online in the U.S. starting mid-October.
🪚 A record number of new construction homebuyers in the U.S. are just walking away from their contracts leaving builders in the lurch.
🏀 The U.S. WNBA playoffs begin tonight and everyone is waiting to see if the Chicago Sky will be repeat champions this year.
✍🏻 President Joe Biden signed the Inflation Reduction Act into law Tuesday.
🗳️ Wyoming Senator Liz Cheney lost her primary battle to challenger Harriet Hageman by double digits.


| | | | |
| --- | --- | --- | --- |
| | Bitcoin | $23,821.80 | |
| | | | |
| --- | --- | --- | --- |
| | Ethereum | $1,886.79 | |
| | | | |
| --- | --- | --- | --- |
| | Solana | $43.09 | |
| | | | |
| --- | --- | --- | --- |
| | Dow | 34,152.01 | |
| | | | |
| --- | --- | --- | --- |
| | S&P | 4,305.20 | |
| | | | |
| --- | --- | --- | --- |
| | Nasdaq | 13,102.55 | |
*Stock data as of market close, cryptocurrency data as of 5:00am ET.


The Lead: China's Economy in Freefall?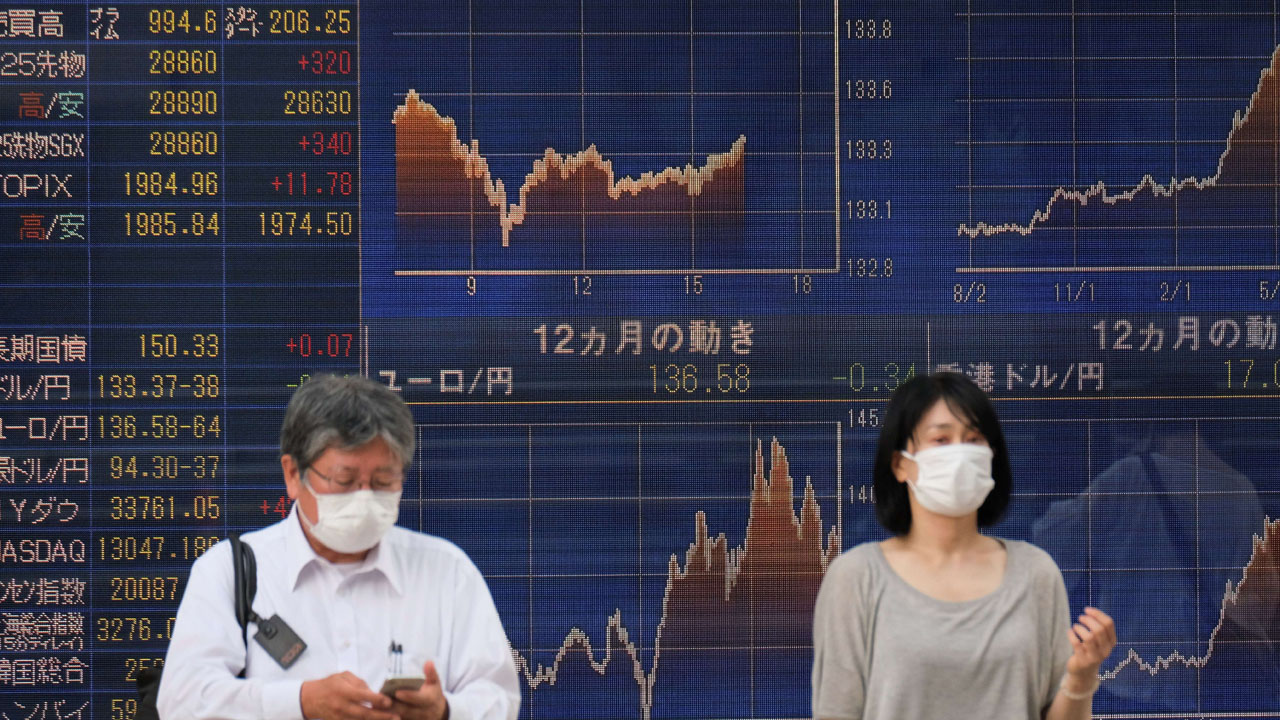 credit: afp
China isn't just pulling headlines with its military exercises around Taiwan. Its July economic data is causing some significant wrinkles, too.
China's leadership chose the rate-cut wrinkle cream, responding to the economic slowdown with a surprise ten-point interest rate cut on both one-year and seven-day lending rates. Economists don't think this will do much because there is a housing slump and strict Covid controls mean businesses aren't borrowing a lot.
"July's economic data is very alarming," Raymond Yeung, Greater China economist at Australia & New Zealand Banking Group Ltd., told Bloomberg. "Authorities need to deliver a full-fledged support from property to Covid policy in order to arrest further economic decline."
Some of that "alarming" July data includes:
19.9% of people 16-24 are unemployed, a record high
Retail sales only grew 2.7% year-on-year (vs. the 4.9% predicted by economists)
Property investment fell 6.4%
According to Bloomberg, "China's leadership has ruled out large-scale stimulus and vowed to continue with its stringent Covid Zero policy, requiring authorities to shut down businesses and lock down the population when major outbreaks occur — as is the case now in the resort island of Hainan. That's dimming the growth outlook for the rest of the year, which economists are downgrading further below 4%."
Many expect the slowdown trend to continue, possibly missing those downgraded estimates. What does this mean for the rest of the world? The words "global" and "recession" are currently making appearances in some economists' nightmares.


India at 75 Years Old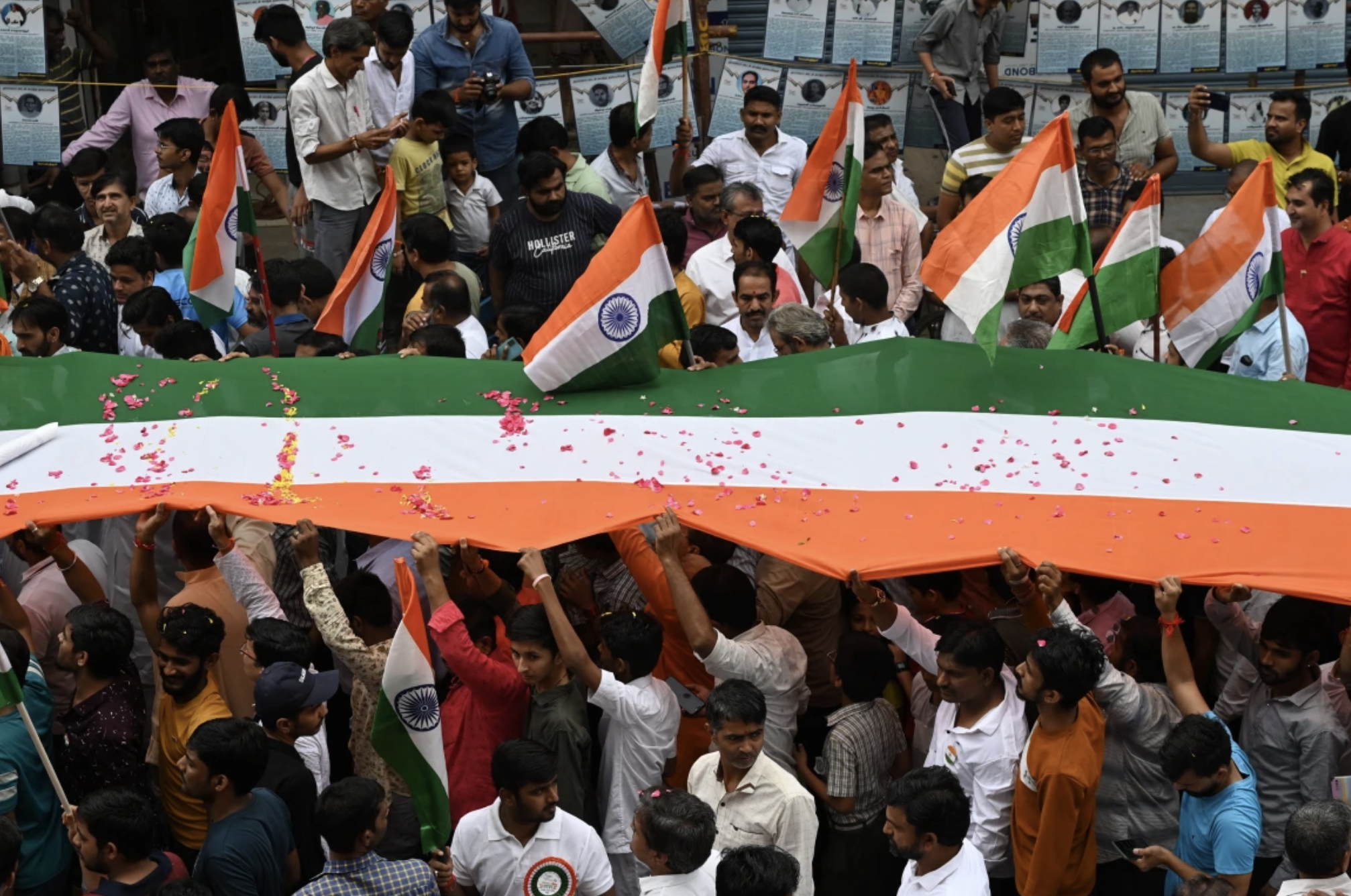 credit: afp
India turned 75 years young Monday, celebrating 75 years of independence after British rule ended in 1947. The traditional gift for the 75th is diamonds, and India would like some, please.
Prime Minister Modi is celebrating with some clear goals: he wants India to become a developed country in the next 25 years. (Diamonds would probably help).
"The way the world is seeing India is changing. There is hope from India and the reason is the skills of 1.3 billion Indians," Modi said Monday. "The diversity of India is our strength. Being the mother of democracy gives India the inherent power to scale new heights."
So where are they now?
Geopolitics
While India is still technically non-aligned, it is not happy about China and could prove key to balancing China's rise in the Asia Pacific. According to the Stockholm International Peace Research Institute, India's military spending was $76.6 billion in 2021, putting it right behind the U.S. and China.
The country also has one of the fastest-growing economies in the world and is home to some very wealthy people. India's population is about to surpass China's as the largest in the world.
Economics
But that brings us to the millions of Indians who are living in poverty. According to the World Bank, 60% of Indians were living on less than $3.10 a day in 2017, and inequality is rampant. Oxfam found that 80% of the country's wealth was controlled by the richest 10% in 2017.
So, the country still has work to do. But don't we all? Happy 75th!


Get a FREE Audiobook Today
I've been an Audible member for over 10 years and I can't think of a subscription service I've gotten more use from.
I take long walks with the dog listening to great non-fiction, fiction, and self-help books right on my iPhone. I've listened to hundreds of audiobooks over the years and research shows us that listening to books leads to higher comprehension than reading alone.
Audible's newest plan, AudiblePlus gives you full access to a huge Plus Catalog. Now you can listen to all thousands of popular audiobooks, original entertainment, and podcasts — all ad-free. They even have guided fitness, meditation and sleep training classes.
The best part is that readers of our newsletter will get a FREE month to try it out and listen to as many audiobooks as you want. Yes FREE. Just visit Audible.com/Redacted to text the word "redacted" to 500-500 on your cell phone.


Free Period Products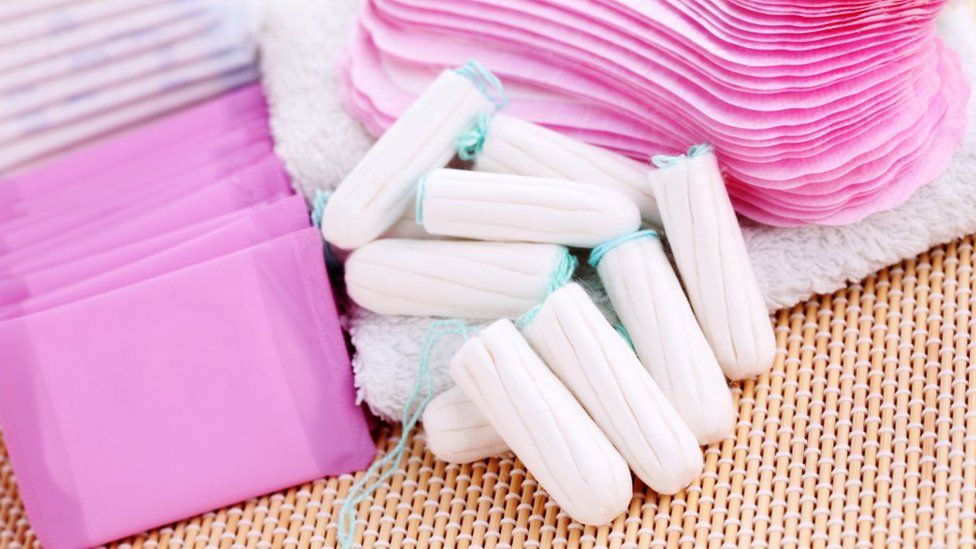 credit: getty
Scotland is now the first country in the world to offer free period products to "anyone who needs them."
The country began its war on period poverty in 2018 when it made period products free for students. The new Period Products Act expands that to one and all.
In a world where period products are frequently taxed higher as "non-essential" products, where some people have to decide between buying bread or buying tampons, this is a move in the right direction.
"We hear of a lot of mothers going without their period protection just so they can feed their children and using things such as newspaper stuffed into socks or bread… because they're cheaper than period products," said Georgie Nicholson of the social enterprise Hey Girls.
The ability to stop something you have no choice about from leaking everywhere is definitely essential. Let's hope this becomes a trend. More free period products!


50 Years Later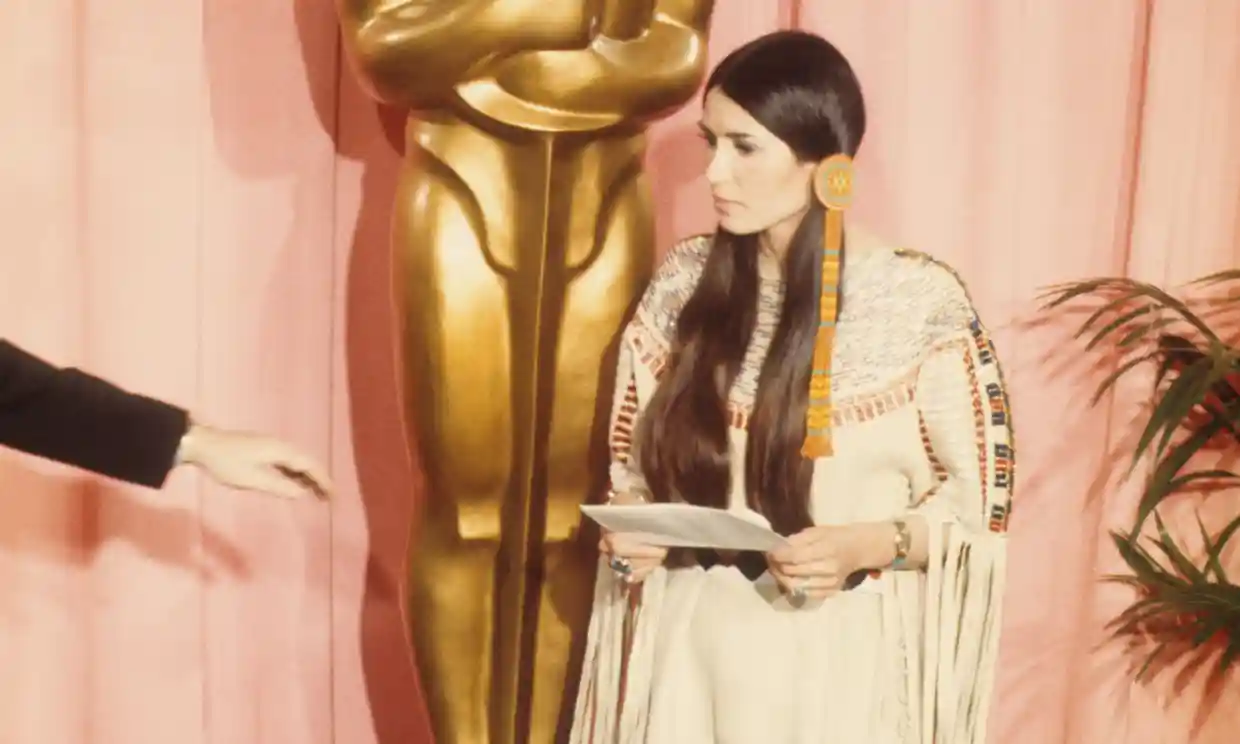 1973 Academy Awards credit: getty
The U.S. Academy of Motion Picture Arts and Sciences has (finally) made a formal apology to Sacheen Littlefeather.
A Native American activist, Littlefeather was part of Marlon Brando's refusal of his 1973 Oscar for The Godfather. Brando did not attend the awards in a show of support for Native American rights and their depiction in Hollywood films. Instead, when the presenters announced Brando had won, Littlefeather walked out and made a speech. The speech Brando gave her was eight pages long, so (exercising her Native American rights) she improvised.
"I went up there like a warrior woman," Littlefeather, now 75, said. "I went up there with the grace and the beauty and the courage and the humility of my people. I spoke from my heart.
Regarding the Academy's apology to me," Littlefeather continued, "we Indians are very patient people—it's only been 50 years! We need to keep our sense of humor about this at all times. It's our method of survival."


News By The Numbers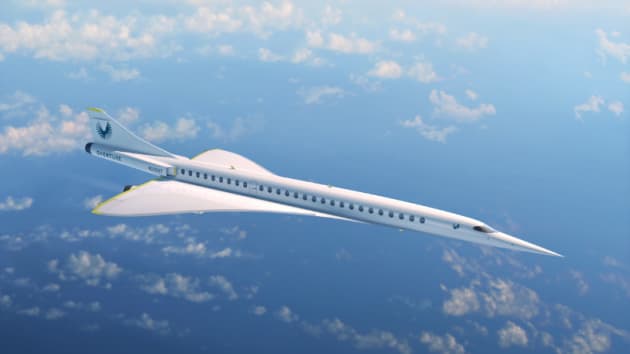 20. That is how many supersonic Overture planes American Airlines will buy from Boom. These planes are not a reality yet, so I guess they would be potential supersonic planes.
1.4 to 2.6. That is how many times higher emissions from landfills are than we thought, a new study suggests. Scientists used 2018-2019 satellite data from landfills in Delhi and Mumbai in India, Lahore in Pakistan and Buenos Aires in Argentina.
Tier 2. That is the shortage condition the Colorado River will sink to by January 2023. The Tier 2 shortage means Arizona, Nevada, and Mexico will have to further cut their usage of the Colorado River.


What's Trending?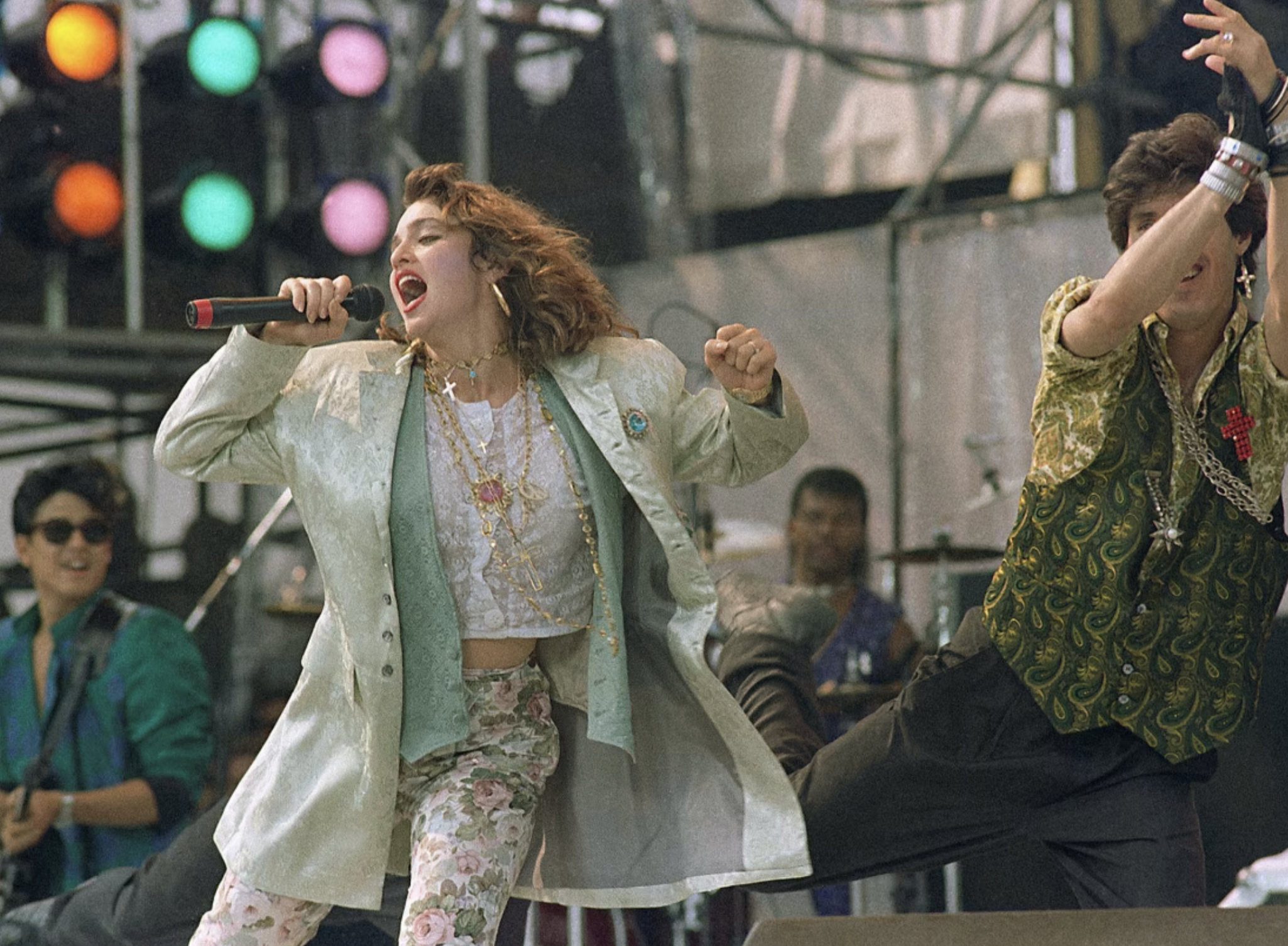 Maddonna at Live Aid 1985 credit: ap
Madonna is trending because she celebrated her 64th birthday Tuesday in Italy, and… MADONNA IS 64???!!!
Paxlovid is trending. First Lady Jill Biden is taking the antiviral because she tested positive for Covid. She is vaccinated and double-boosted.
Wolfgang Peterson is trending because the German director of classics like Das Boot, The Neverending Story, and Air Force One died at 81.


Share The Love
Become a friend of Morning Invest by sharing this newsletter with someone you love.
When you do, we don't just give you a pat on the back and say, "Well done old sport." We give you actual rewards that'll make everyone jealous.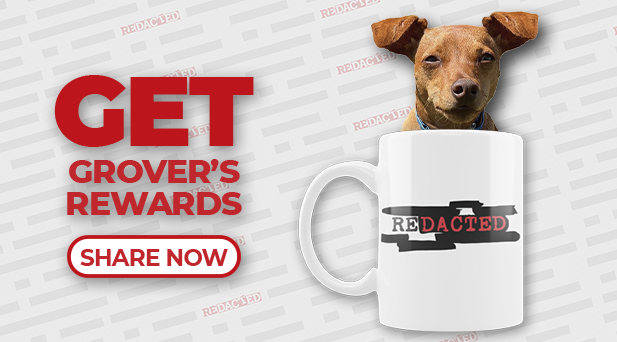 Or copy & paste your referral link to others: