| TOGETHER WITH | |
| --- | --- |

Happy Wednesday.
U.S. Secretary of State Antony Blinken dressed his children as war propaganda for Halloween. His daughter wore the Ukrainian flag and his son dressed as Ukrainian President Zelensky. Spooky indeed.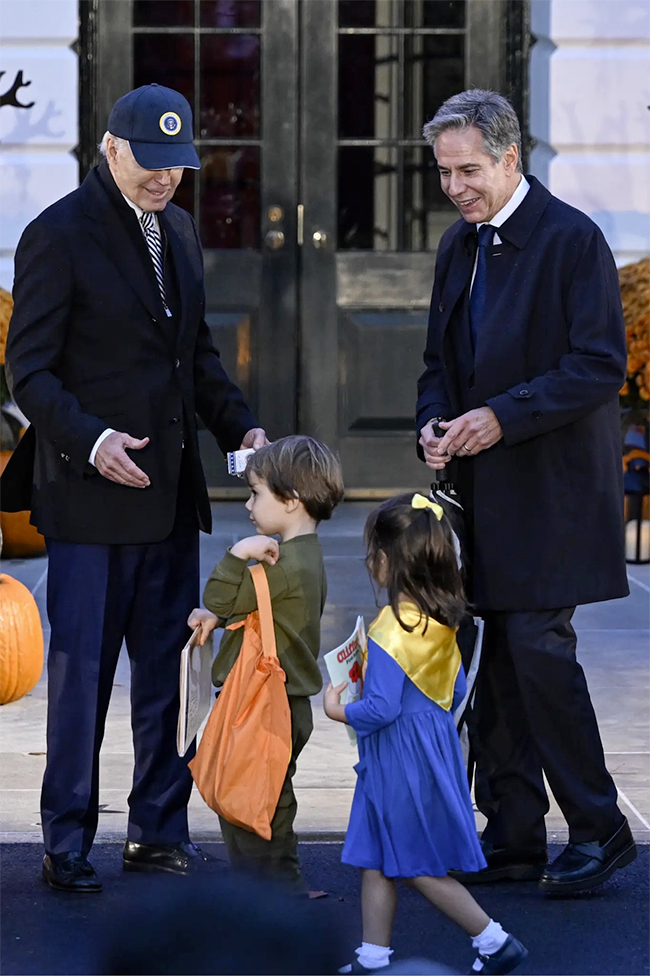 credit: gettyimages
In Case You Missed It.
🇺🇸 President Biden is scheduled to meet with Chinese President Xi Xinping at a conference in San Francisco this month.
🇸🇦 Saudi Arabia was awarded the honor of hosting the World Cup in 2034.
🇪🇬 Researchers say the Great Sphinx could have been created by the wind. Maybe the back side but the face!?
💰 Toyota announced an $8 billion investment in a battery manufacturing plant in North Carolina.
🦠 A new Covid variant HV.1 has overtaken Eris EG.5 in the U.S.
⚖️ The Supreme Court is hearing the case this week over whether or not politicians can block people on social media.
📺 Catch Redacted live tonight at 4 PM EST right here. You can subscribe for free and click on the bell notification to be notified when we go live.


| | | | |
| --- | --- | --- | --- |
| | Gold | $1,982.47 | |
| | | | |
| --- | --- | --- | --- |
| | Silver | $22.65 | |
| | | | |
| --- | --- | --- | --- |
| | Bitcoin | $34,424.90 | |
| | | | |
| --- | --- | --- | --- |
| | Dow | 33,052.87 | |
| | | | |
| --- | --- | --- | --- |
| | S&P | 4,193.80 | |
| | | | |
| --- | --- | --- | --- |
| | Nasdaq | 12,851.24 | |
*Stock data as of market close, cryptocurrency data as of 5:00pm AM.


Lead: Mass Civilian Casualties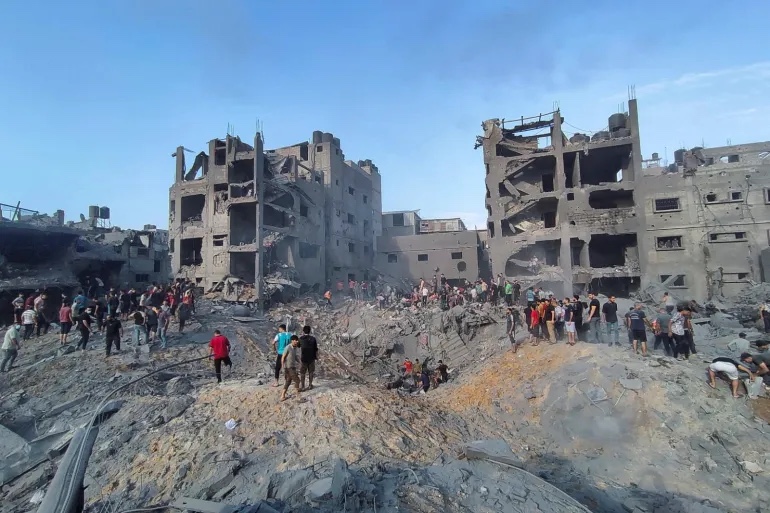 Photo credit: Reuters
The New York Times reports that the U.S. has tacitly accepted "mass civilian casualties" will happen in Gaza from Israel's retaliation for the October 7 attacks. The paper reports that Israel used the U.S. track record as justification this:
"It became evident to U.S. officials that Israeli leaders believed mass civilian casualties were an acceptable price in the military campaign. In private conversations with American counterparts, Israeli officials referred to how the United States and other allied powers resorted to devastating bombings in Germany and Japan during World War II — including the dropping of the two atomic warheads in Hiroshima and Nagasaki — to try to defeat those countries."
So…who are we to talk?
We are humans and we are watching mass casualties of children that's who we are. At least 8,000 civilians have died in these strikes – an estimated 40% of them children.
Acclaimed journalist Seymour Hersh says that Israel has a goal of destroying at least 65% of the possible citywide escape routes for the Hamas leadership unless someone talks them down.
Instead of talking them down, the U.S. is helping by sending at least 300 troops to specialize in "communications and explosive ordinance disposal."
Civilians have started evacuating through the border with Egypt, albeit slowly.
And now Yemen has entered the war in with missile and drone strikes on Israel, reportedly from Iran-backed rebels. Israel claims it was able to thwart the attacks but this may be the Iranian-link that Western leaders have been hoping for to escalate the war to include Iran.


Double Shock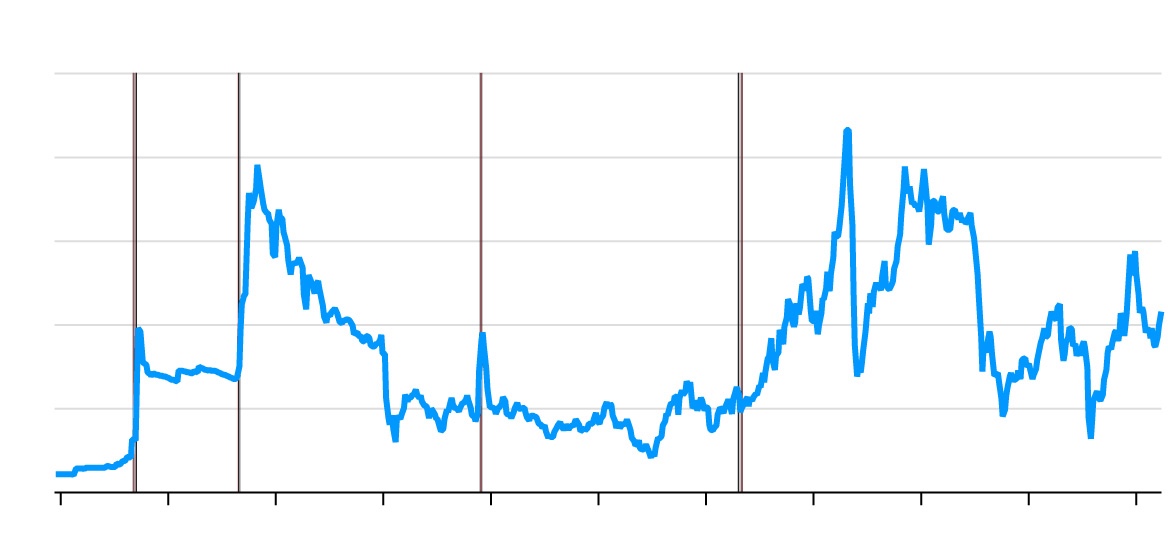 Photo Credit: Commodity Markets Outlook
Global economies are already reeling from the war in Ukraine. Could it get much worse now due to a war in Israel?
Short answer: Yes. It can and probably will.
Experts are calling this an impending "double energy shock." They say that oil prices could surge past $150 per barrel! We worried last year when they went over $100.
War is usually the impetus for oil price spikes and with it, price increases for everything that you buy that is shipped to you, which is…everything.
The International Monetary Fund warned that a 10% increase in oil prices would add 0.4% to global inflation next year.


Grab 16 FREE stocks today! Including a Free SOFI stock!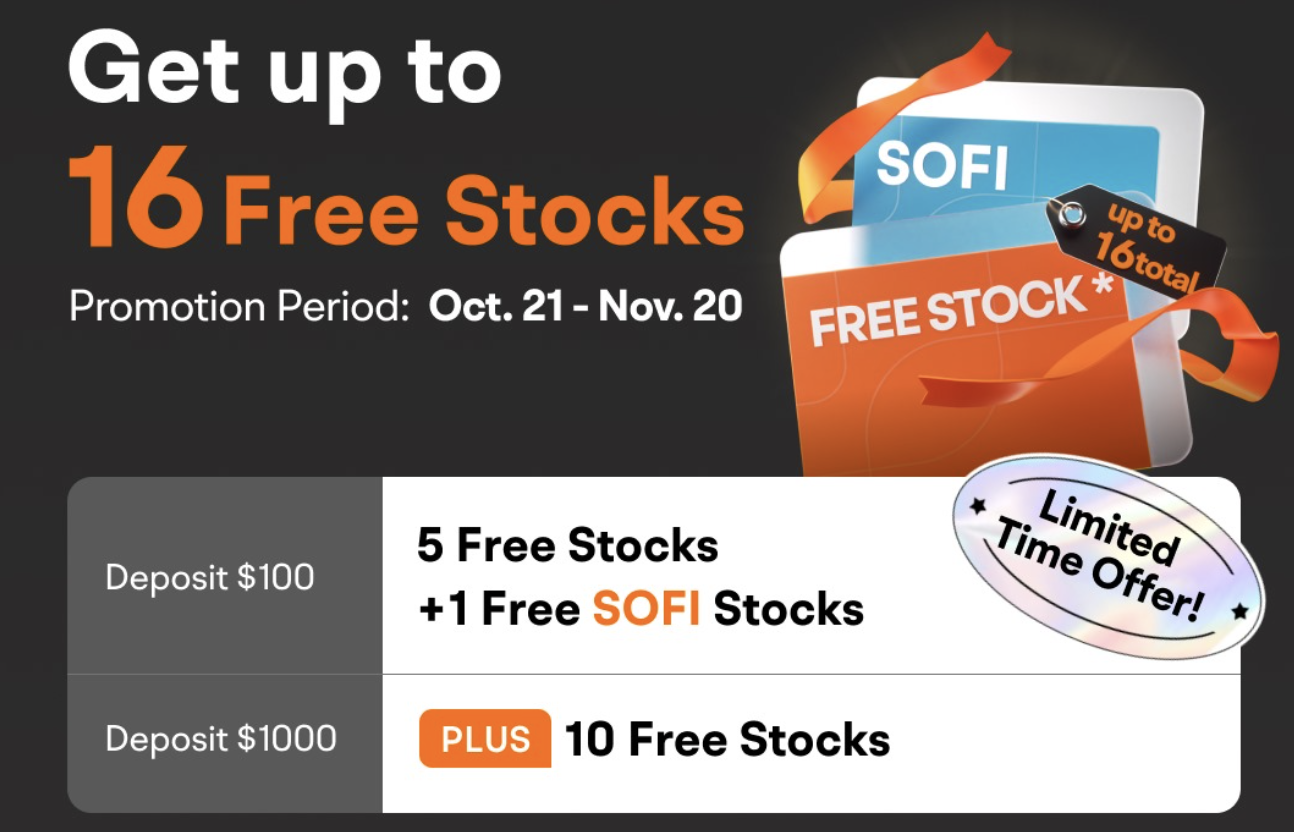 Our favorite trading platform MooMoo is giving away 15 free stocks plus one SOFT stock! That's 16 total! So why wouldn't you grab these free stocks even if you never do anything else with the account? Great question!
MooMoo is a beautifully designed trading platform that makes trading simple and intuitive. MooMoo has a ton of extra bells and whistles you can't find on other exchanges like FREE level 2 quotes, earnings calendars, news alerts and more. Right now when you open a free account, make your initial deposit and you can claim 16 FREE stocks with this link. So yes 16 total free stocks!


Don't Save The Whales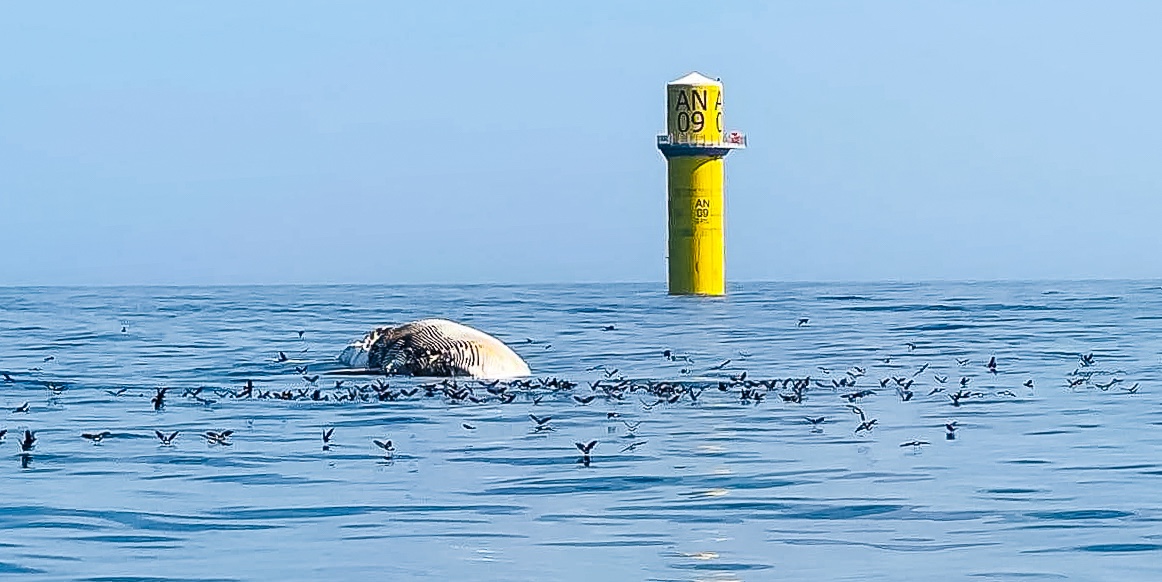 Photo credit: @shellenberger
A Danish offshore wind developer Orsted has scrapped projects to develop wind farms off the coast of New Jersey due to "a higher than expected writedown of its portfolio."
The company blames supply chain delays and high interest rates that tanked the project. The company's CEO says that he is disappointed because "We firmly believe the US needs offshore wind to achieve its carbon emissions reduction ambition."
But is offshore wind really the promise that climate ambassadors say it is? Not only is it less reliable than most energy we've got, it is also killing wales. In September, a whale named Faith was killed next to the Orsted site in Rhode Island. Journalist Michael Shellenberger says that she was the 71st wale killed by wind projects since last December.
A new documentary called "Thrown To The Wind" challenges the government's insistence that wind projects are not related to a spike in whale deaths. If not this, then what?


Pardon my French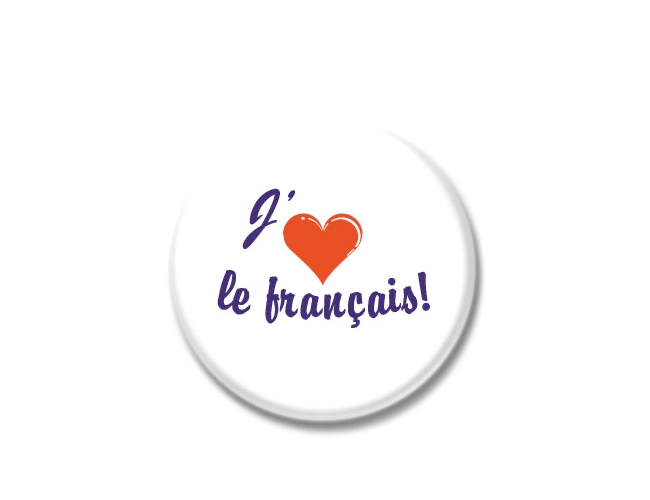 Photo credit: Le Petit Juriste
France has decided not to re-order their language for "gender neutral" purposes. The Senate voted in favor of a ban on "gender inclusive language" in all official communication in France.
This is a double negative so maybe a bit confusing. It means that politicians do NOT want to change the romance language and have voted TO ban proposed changes. The changes would remove the gender of nouns that is common in all romance languages and frustrates new learners around the world. It applyies to government documents, business contracts and advertising.
The proposed changes did not seem much easier. It would replace il and elle with iel and use the suffice .e and the end of words to refer to both male and female versions of the nouns. These were obviously proposed by gender ideology advocates.
French President Emmanuel Macron spoke out against changing the French language on Monday saying, "In French, the masculine is neutral. We don't need to add points in the middle of words or hyphens to make it readable."


News By The Numbers
Photo credit: Reuters
800 tonnes. That is how much gold China's Central banks have bought this year, up 14% from last year, according to a recent report.
0.1%. That is how much GDP shrank in Canada in Q3 of this year. The economy shrank in Q2 as well indicating a recession but experts don't want to say the word recession.
$1.8 billion. That is how much the National Association or Realtors and major U.S. brokers must pay in damages after a ruling from a lawsuit that alleged anticompetitive practices increased fees to real estate agents. The Association says that it will appeal this case.


What's Trending?
Super Mario is trending because Nintendo is running a free promotion for the new Wonder game that includes a paid stage of the game for free through November 30.
Tyler Christopher is trending. The "General Hospital" actor died on Tuesday from a "cardiac event."
Heidi Klum is trending for dressing as a giant peacock for Halloween


SUPPORT INDEPENDENT JOURNALISM!
Click here to go to our store to grab some of our exclusive Merchandise.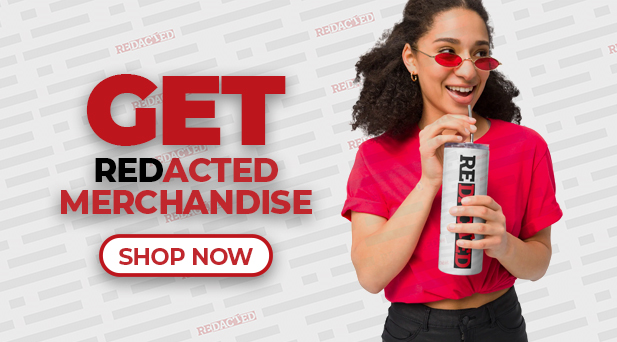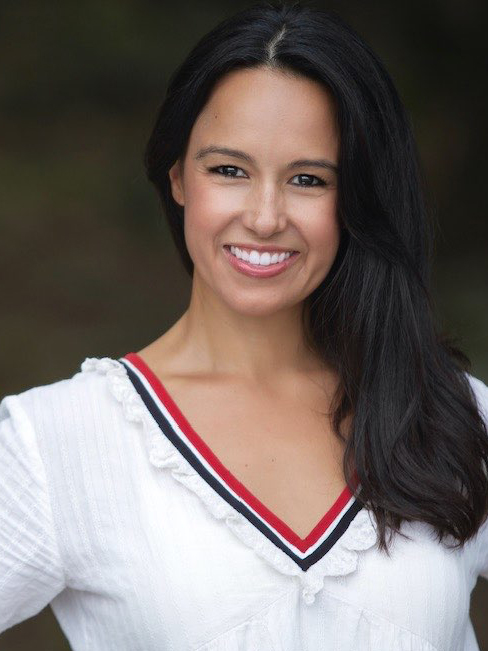 This newsletter is written and researched by Natali Morris.
Please feel free to reach Natali at

[email protected]


for any editorial feedback.