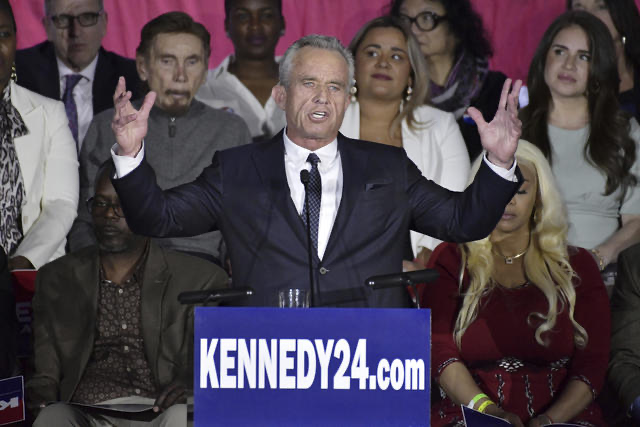 Democratic Presidential candidate Robert F. Kennedy Jr. spoke at length on Tuesday in the wake of two major mainstream media hit pieces on him.
Kennedy spoke about the war in Ukraine and gave historical context about the war that no politicians have been willing to broach. He quite rightly stated that the U.S. has been surrounding Russia with military bases and provoking a war that would weaken Russia and have no benefit for Ukraine. He advocated for peace talks involving President Biden and Russian President Putin.
Kennedy spoke against the "war on everything" – war on drugs, war on terror, war on obesity. He spoke against "this simplistic good guy-bad guy thinking" that is "tearing us apart." He said that the primary job of an American president is to keep the country out of war.
But the mainstream media wants us to toss him aside as crazy. NBC's hit piece about Kennedy focused on his position on vaccines and called him "the conspiracy candidate." It is written under the premise that Kennedy is wrong about the Covid vaccine, but the proof it gives is not consistent with the CDC data showing that there have in fact been vaccine-related deaths and injuries. In claiming that there have not been vaccine deaths, the author links to an article about excess deaths, a false equivalency. It's a master class in lazy and conceited journalism and NBC should be ashamed of themselves for it.
The Los Angeles Times calls Kennedy "a threat to your health and our democracy." They too claim to refute his vaccine claims definitively, something that cannot be done. Vaccines do have high risks and Kennedy pledges to remove blanket liability for vaccine makers and increase testing and transparency. Don't we want that?
Kennedy's main response when he is challenged on his vaccine research: Show me where I got it wrong. 
No one is willing to do that. So they call him crazy. They don't want you to listen to nuance or consider any gray area. He's pushing the talking points to the brink and the media is short-circuiting over it.