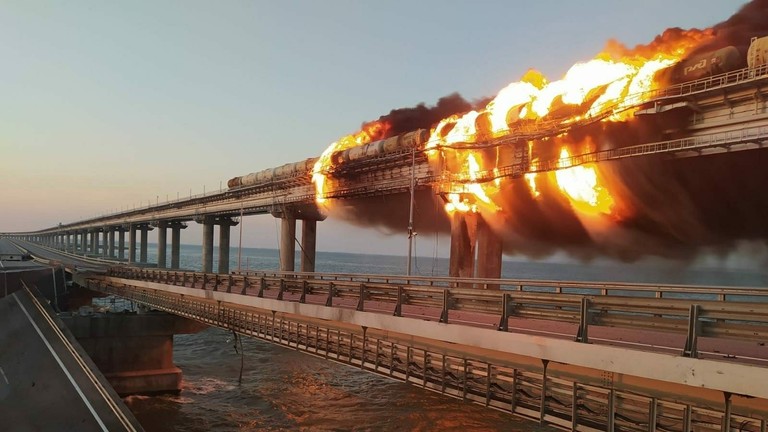 Kiev has been rocked by explosions overnight as the Ukraine/Russian conflict moves into the capital city. A massive onslaught of missile strikes were reported all over Ukraine this morning as Russian forces struck the government offices of Ukrainian President Vlodomir Zelensky as well as the Ukrainian security service known as the SBU. Russia also struck the energy infrastructure knocking out power to most of the country. Subway, rail lines have also been struck.
Hitting infrastructure has been something Russia avoided doing until this morning.
A major bridge was blown up in Crimea over the weekend, killing at least three civilians and knocking out a major artery into the Russian-controlled territory. Russian President Vladimir Putin says that this is an act of terrorism by Ukraine.
Ukraine has not explicitly accepted responsibility for the terror attack but hours after the bridge exploded, Ukraine's postal service unveiled a new stamp celebrating the destruction of the bridge. It is a very strange artifact. It features a man and a woman that look like Leonardo DiCaprio and Kate Winslet in the famous Titanic scene where they "fly" on the front of the ship. Only, they are doing it in front of a smoldering bridge. I don't really get it.
Ukrainian President Zelensky ordered an attack on Crimea in early 2021 so it is not surprising that Ukraine would attack again as the war heats up across Ukraine.
In related news, Ukrainian troops are reporting that their Starlink communication devices have had outages. This is the communication company run by Elon Musk. Much of the connectivity was provided by donation. Musk said that this has come at great cost to Starlink but did not explain the outages because it "is classified.