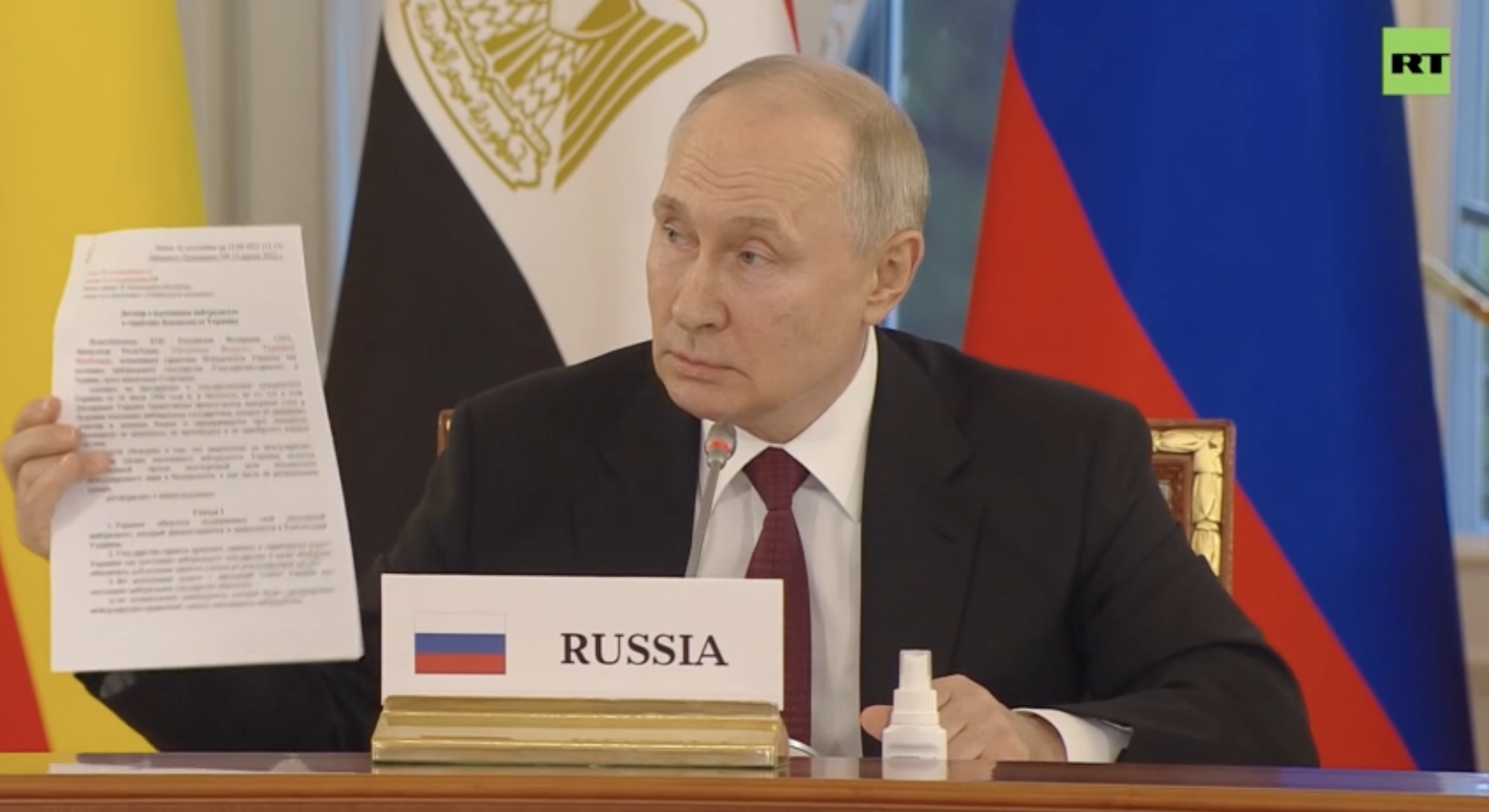 Russian President Vladimir Putin showed off a peace agreement that was signed by Ukraine last year when peace talks were hosted in Turkey. It was called the Treaty on Permanent Neutrality and Security Guarantees of Ukraine.
Ukraine agreed to these terms but after consultation from Western leaders such as former UK Prime Minister Boris Johnson and the Biden administration, refused to honor the treaty. President Putin says that this is the first time this treaty has been publicly discussed.
"I would like to draw your attention to the fact that with [Turkish] President [Tayyip] Erdogan's assistance, as you know, a string of talks between Russia and Ukraine took place in Turkey so as to work out both the confidence-building measures you mentioned, and to draw up the text of the agreement. We did not discuss with the Ukrainian side that this treaty would be classified, but we have never presented it, nor commented on it. This draft agreement was initialed by the head of the Kiev negotiation team. He put his signature there. Here it is," said President Putin to a room full of African leaders.
The treaty outlined neutrality for Ukraine, maximum allowances for military personnel and equipment and listed Russia, the US, Britain, China, and France are listed as guarantors.
President Putin said that Russia withdrew troops from Kyiv after this treaty was signed but Ukraine never honored their side of the deal but instead "threw it all into the waste basket of history."
Ukrainian President Zelensky now says that no peace agreement is on the table unless Ukraine re-takes Crimea, which voted to join Russia in 2014, and the Donbas region, which asked Russia to intervene and voted to join Russia last fall.
Ukraine's counteroffensive has not been able to re-take much of these regions so it has somehow moved into attacking inside land that was always Russian. Russia's Belgorod Region was shelled by the Ukrainian army just today.