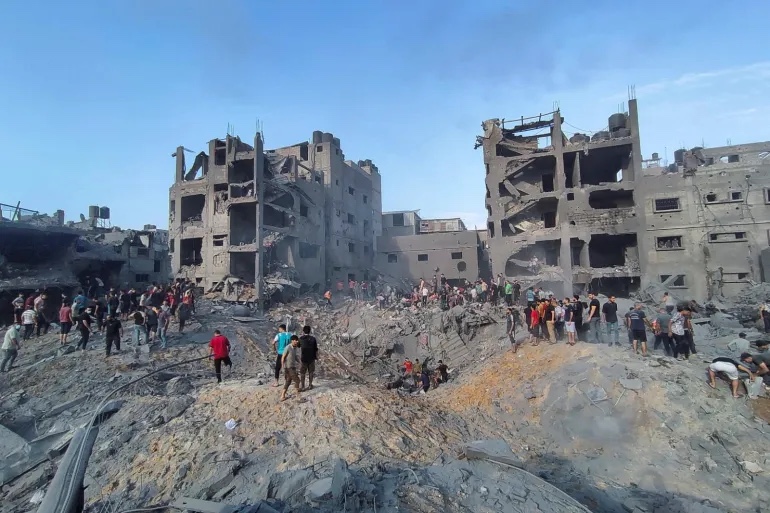 The New York Times reports that the U.S. has tacitly accepted "mass civilian casualties" will happen in Gaza from Israel's retaliation for the October 7 attacks. The paper reports that Israel used the U.S. track record as justification this:
"It became evident to U.S. officials that Israeli leaders believed mass civilian casualties were an acceptable price in the military campaign. In private conversations with American counterparts, Israeli officials referred to how the United States and other allied powers resorted to devastating bombings in Germany and Japan during World War II — including the dropping of the two atomic warheads in Hiroshima and Nagasaki — to try to defeat those countries."
So…who are we to talk?
We are humans and we are watching mass casualties of children that's who we are. At least 8,000 civilians have died in these strikes – an estimated 40% of them children.
Acclaimed journalist Seymour Hersh says that Israel has a goal of destroying at least 65% of the possible citywide escape routes for the Hamas leadership unless someone talks them down.
Instead of talking them down, the U.S. is helping by sending at least 300 troops to specialize in "communications and explosive ordinance disposal."
Civilians have started evacuating through the border with Egypt, albeit slowly.
And now Yemen has entered the war in with missile and drone strikes on Israel, reportedly from Iran-backed rebels. Israel claims it was able to thwart the attacks but this may be the Iranian-link that Western leaders have been hoping for to escalate the war to include Iran.