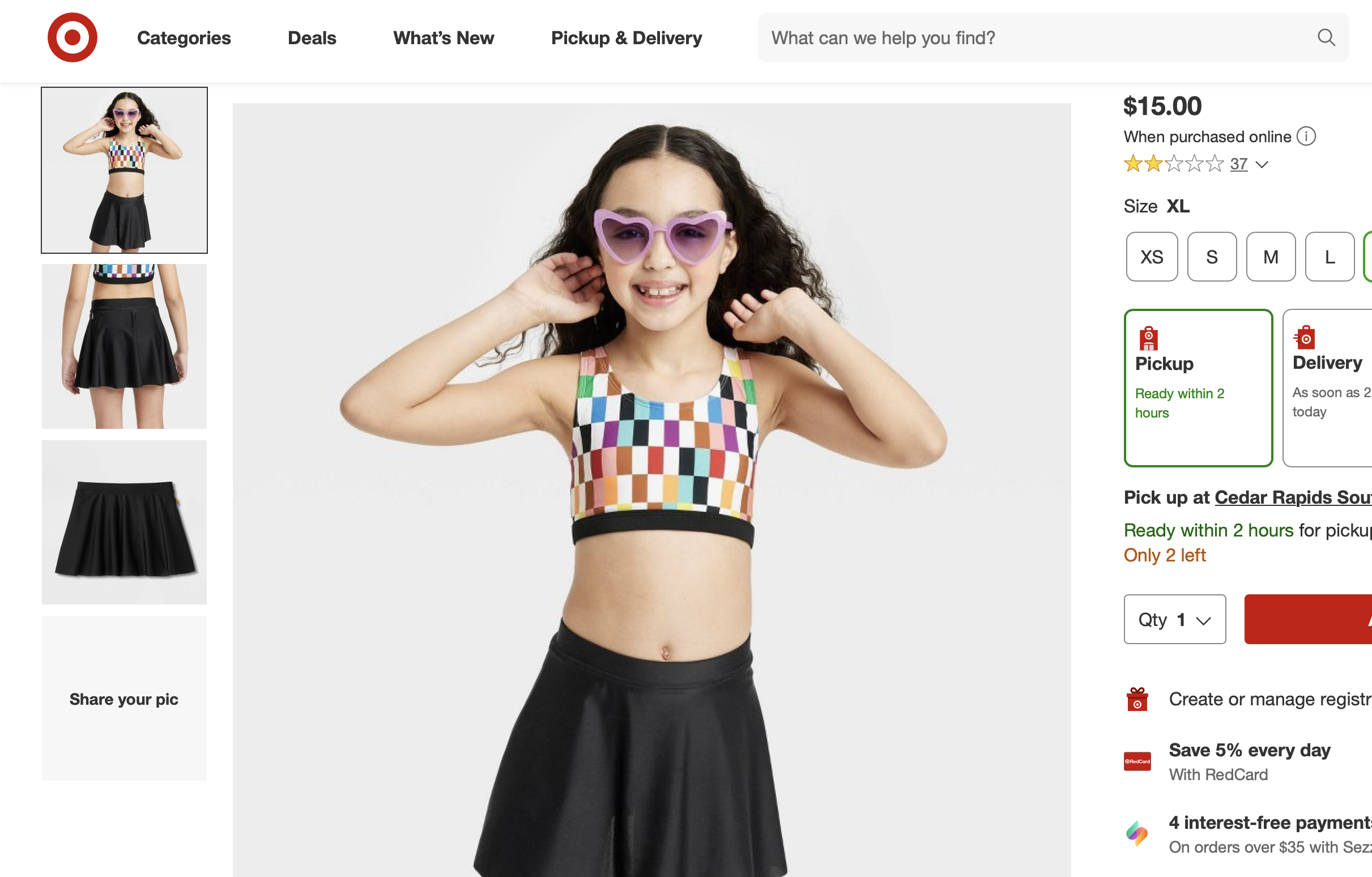 Target has removed what it called "Pride merchandise" after backlash on social media that had "tuck friendly" bathing suits and products that offered "light binding."
By "light binding," they mean breast binding. Breast binders have been shown to "result in mild to sever adverse health effects" including back pain, shoulder pain, chest pain, shortness of breath, bruised and fractured ribs and dermatological problems. These effects come from surveys because it is unethical to do a clinical trial on young people. And yet the products are available for purchase, now at Target.
By "tuck friendly," they mean tucking of penis and testicles.
The binding and tucking suits only come in adult sizes but Target does sell bathing suits for children that are marketed as "Thoughtfully fit on multiple body types and gender expressions." (see photo above)
The Associated Press said that "Target's Pride month collection has also been the subject of several misleading videos in recent weeks, with social media users falsely claiming the retailer is selling "tuck-friendly" bathing suits designed for kids or in kids' sizes."
But Target does sell a line of Pride clothing for children and dogs alike. Does Pride belong in corporate America and promoted to children? Gays Against Groomers says this about it:
"Not only do we find Pride unnecessary now, we are concerned by the exposure of inherently sexual materials that fall under the LGBT umbrella to children. In the past, we have seen young children brought to parades where grown adults are selling sex toys, hardly dressed, and displaying inappropriate behavior many minors should not be witnessing. In this day and age, many believe this is a form of empowerment, and a way to educate children with 'sex positivity.' In reality, we are looking at the destruction of innocence right before our eyes, and we won't be silent about it."