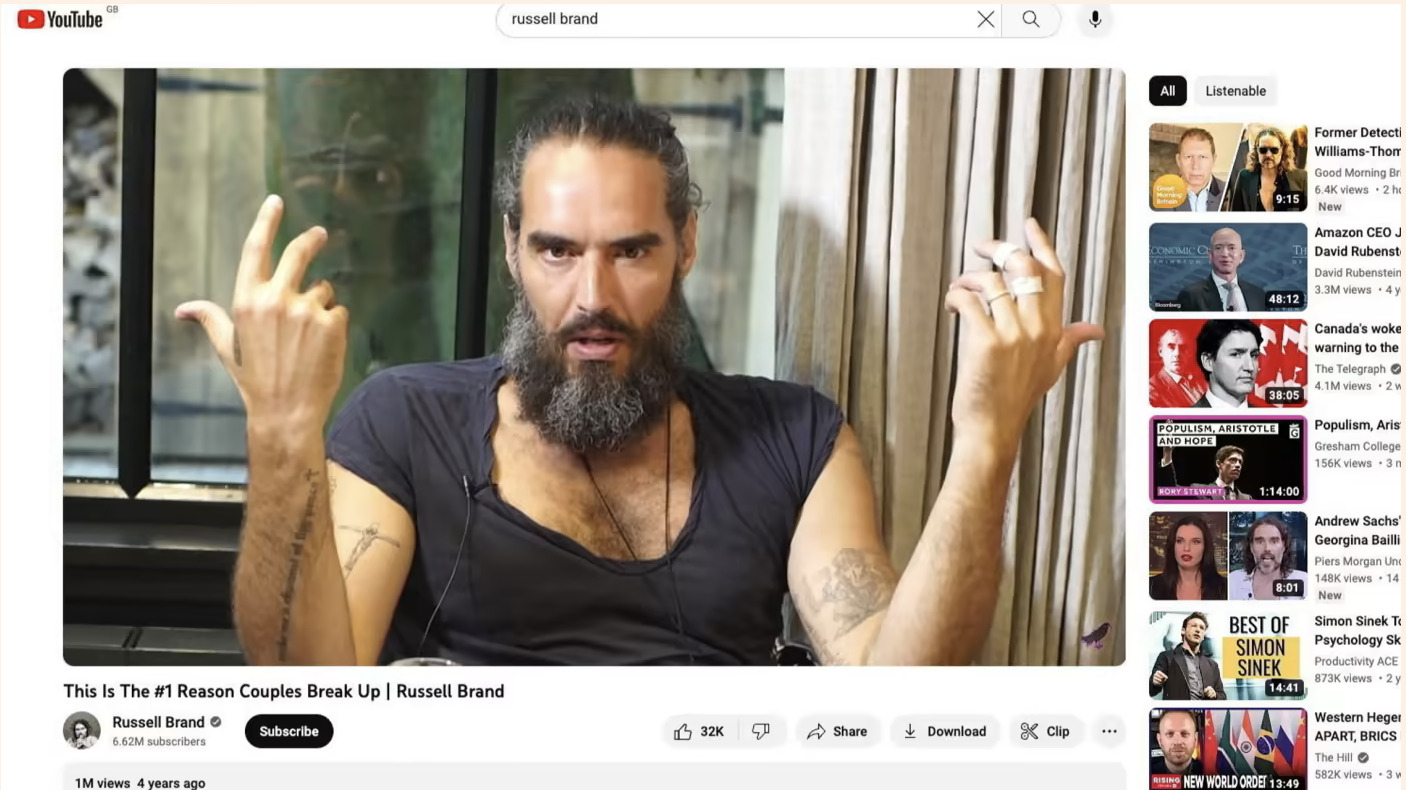 Should accused people be stopped from participating in capitalist endeavors? Should people be silenced based on public accusations?
These are important questions forced upon us with this week's cancelation of actor and broadcaster Russell Brand.
In the wake of accusations of sexual abuse over 20 years ago, YouTube revoked Brand's ability to monetize his YouTube channel where he has over 6.5 million followers. They did not remove the channel. They only removed his ability to monetize it. This means that YouTube will be the sole money collector on ads that run on his popular videos that question mainstream narratives about war, Covid, climate and more.
A spokesperson for YouTube said this: "If a creator's off-platform behavior harms our users, employees or ecosystem, we take action to protect the community."
But he has not been charged or convicted. Is it for YouTube to act as a court of law?
A member of parliament asked Rumble if the free-speech platform would also demonetize Brand and Rumble responded with incredulity. No, they said. This is wrong.
In the U.S., the court system was born out of libel cases because small town farmers could not support themselves if they were accused of wrongdoing because no one would do business with them. That is why our laws state that one should be considered innocent until proven guilty. Yet YouTube and the BBC have decided that Brand should not be given this assumption and should be revoked of his opportunity to make money based on accusations. Even convicted people are given the chance to support themselves.
This isn't about whether or not Russell Brand and his family will starve. I'm guessing they won't. It is about MANY important social implications. Do we cancel the accused based on allegations? Do we censor speech based on people's offline behavior? And, given that the media loved Russell Brand when he was a self proclaimed lewd ladies' man but turned on him since becoming a sober family man with a message of enlightenment, is this about something altogether different?
One other thing that I can't get out of my mind. Brand and his wife are expecting a third baby in the fall. In considering possible victims of the past, we should not make victims of the future. His wife deserves peace in her third trimester. My take on this is as follows: Free speech must be protected for all. The proper authorities should deal with this. His family should be left in peace.