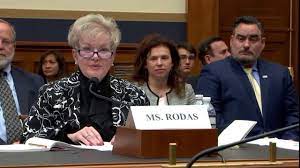 A government whistleblower says that the U.S. government is acting as the "middleman" to traffic young children into unimaginable lives through the migrant crisis.
Tara Lee Rodas, a Health and Human Services whistleblower, gave her opening statement on the child migrant crisis to the House Judiciary Committee on Wednesday. It is horrific. 
She says that the U.S. government, perhaps unintentionally, "has become the middleman in a large-scale multibillion dollar child trafficking operation that is run by bad actors seeking to profit off of the lives of children."
The says that the government is complicit in schemes that include "recruiting in home country," smuggling to the U.S. border and then handing children off to sponsors that they know are criminals and traffickers.
"According to Customs and Border Protection (CBP) statistics, the number of UACs who came to the border shot up from 33,239 in FY2020 to over 146,000 in FY 2021 and 152,000 in FY 2022. So far in FY 2023 there have been over 70,000 encounters of unaccompanied children.
But the Biden administration has been rocked by a number of reports that officials have been unable to make contact with over 85,000 child migrants, and more recently that administration officials ignored signs of "explosive" growth in child labor. A number have been forced into indentured servitude to pay back smugglers and have worked in dire conditions."